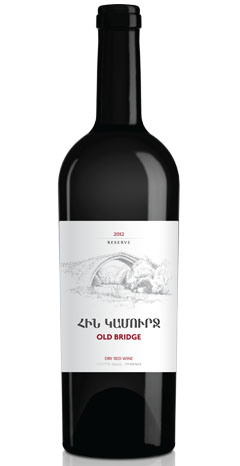 Old Bridge (Dry Red Wine) 

Producer: "Old Bridge" LLC
Origin: Yeghegnadzor, Vayots Dzor, Armenia
Climate: Dry continental climate and large diurnal temperature fluctuations with the average annual rainfalls of 400 mm and mountain-valley winds. The average air temperature in January is 5-6◦C, with a coldest temperature of -22◦C and highest of +35◦C in July.
Soil: Volcanic rock and clay
Harvest date: October 2012. Hand harvested.
Blend information: 100% Areni
Vinification: Hand harvested and selected grapes undergo fermentation in stainless steel tanks at 25-280C for 15-20 days, followed by malolactic fermentation. Wine is aged in 350 l Caucasian oak barrels for twenty-four months.
Alcohol: 14%
Contains sulfites: Yes.
Ideal serving temperature: 16 to 18 °C.
Tasting notes: Bold, full-bodied wine with smooth tannins and dark red colour, aromas of red fruits and berries, medium long finish.
Producer's comment: This wine combines more than 6000-year old traditions of viticulture with modern winemaking practices.
Serving suggestions: Pairs well with all red meats and spicy food, Armenian barbeque and other local dishes.
Chief winemaker: Armen Khalatyan
Consulting winemaker: Arman Manoukian

Vahid Nouri
Sales Manager
+46 737 54 27 90
Mail me
Avec Sweden AB • 556654-7393 • Elsa Borgs Gata 22 • 129 53 Hägersten • Stockholm/Sweden • contact@avecsweden.se